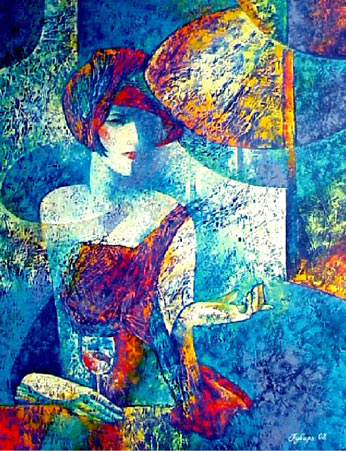 Goubar, Elena
Light
19.69x19.69 inches
Oil on Canvas

Goubar, Elena
Elena Goubar, a native of a small town in Russia (Saratov), was born on April 15, 1961. Elena has been surrounded by fine art all her life; thanks to her father, a successful and highly regarded artist in his own right and her mother, Maria Golisnikov, an instructor in painting and drawing.


So it came as no surprise when Elena picked up the brush very early in her childhood. From the age of thirteen Elena had studied at Saratov Art and Design School. The effect of this early formal education is strongly evident in her understanding of art. She continued her education at Saratov State University and then Moscow University of Art.

Her unique style of expression and use of jewel-like color, reflect her love of the elegant figures and settings of the Art Deco movement. Influence from great masters such as Chagall, Miro, and Rembrandt inspired Elena to create her own individualized style and technique of painting.

Elena Goubar has a thriving artistic career and many successful exhibitions around the world, including France, Germany, Italy, America, and Switzerland. Her work is in private and corporate collections throughout the world.

Elena is an independent artist living in Switzerland with her husband and two daughters.


[an error occurred while processing this directive]